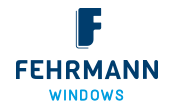 Extremely safe, extremely innovative: windows for shipbuilding, plant engineering and civil engineering
Pressure-tight windows for every application on land and at sea. Our traditional company, founded in 1895, supplies high-performance windows, portholes, sight glasses etc. for extreme requirements worldwide. As co-founder and head of the German Industrial Standard's ship-window committee, we set standards.
Visit Homepage Fehrmann WINDOWS
Our focal points
1. the new freak wave safe fff window for shipbuilding with the patented clamping system

2. high-tech special windows for e.g. shipwreck rescue boats, naval ships, mega yachts etc.

3. security window solutions for plant construction, pressure-tight and maintenance-free

4. special window solutions for building construction – safe even in extreme weather conditions 

5. towing hook according to patent Knief, production and testing
World novelty
In 2021, we will be presenting an innovation for the ship's bridge: Experience the fusion of freak wave-proof high-tech windows with digital features. More safety and comfort through individualised information tailored to your needs.
Catharina Ostrowski
FEHRMANN GmbH
Stenzelring 19
21107 Hamburg
| | |
| --- | --- |
| Tel: | +49 40 75 24 63 16 |
| Fax: | +49 40 75 24 63 11 |